You are here to know:  Is Six Figure Mentors A Scam?
One of my earliest encounter in affiliate marketing is getting to be part of the Six Figure Mentors. I signed up for the program.
Here I will give you my VERY HONEST opinion based on my experience about this network marketing company which provides training on several marketing topics, from affiliate marketing to building websites.
So, is The Six Figure Mentors worth it or is it a scam?
I will give you my final thoughts about this program at the end of the article.
Here is my Review on The Six Figure Mentors.
---
Overview and Ratings
Name of Product: The Six Figure Mentors
Product Owners: Stuart Ross and Jay Kubassek
Product Website: https://thesixfigurementors.com/
Training Programs: 5 out of 10
 Support Programs: 5 out of 10
Website Tools and Hostings: 5 out of 10
myaffiliatediary.com rating: 5 out of 10
---
What is The Six Figure Mentors?
The Six Figure Mentors (SFM) is a marketing system and training platform that prepares you for every aspect of online entrepreneurship from laying a solid foundation to gaining financial security and growth. The claim that they can deliver world-class content taught by top business leaders to thousands of students around the globe.
The system itself, as they promised, is optimized to attract targeted prospects who are most likely interested in making or money, gaining more time freedom, and as a result of this, are willing to invest their time, effort, energy and money into their education.
Here is Stuart Ross explaining more on what is SFM:
Who Are The Owners Of SFM?
The Six Figure Mentors` founders are Stuart Ross and Jay Kabussek. Stuart started as an affiliate marketer and Jay a digital entrepreneur. They designed this platform based on their experiences in the industry. Apparently, both already tried multilevel marketing before but didn't work out. This is again another shot for both of them.

How Does SFM work?
The true idea of this program is to teach you how to create your own online business so SFM`s training program aims to make it easier than ever before (as they claim) to start or grow an online business that can be run from anywhere in the world. Their training modules are designed to hands-on and bite-sized so that their learning becomes fun and action steps are made clear.
But essentially, what they are teaching you is to promote their very own program. You will learn how to promote SFM to others and earn commissions on people who you recruit and sign up under you. The truth is, it is a multi-level-marketing platform.
They will teach you how to generate income online through two routes: as an existing business owner or a newbie on online business.
They promised that if you are an existing business owner, they will help you boost your business through different ways of marketing strategy and sales efforts. And if you are new in affiliate marketing or online business, they promised to offer you the most easy-to-follow affiliate marketing training opportunities in the world. They will teach you how to find and sell cutting edge products that have rewarding affiliate programs that you can sign up to.
What Are The Training And Tools Of SFM?
What SFM offers and very proud of is their marketing tools called DIGITAL BUSINESS LOUNGE. They say it is an easy-to-use platform that lets you quickly create beautiful websites or blogs with just a few clicks, and with the major benefit of offering all the internet marketing tools, you require under one roof. They say, nothing to download or install, and no additional hosting is necessary.
They also have simple lead captures ready to use. They promoted it as quickly as turning your idea into a live and ready-to-market lead capture page in just a few minutes.
They also offer several video training, personal system consultant, and also weekly training webinars.
How Is The Support In SFM?
As claimed, they have a friendly, experienced support team who are dedicated to helping unravel any technical issues. Everything from bug issues to some problems in setting up, they claimed that they will be there right away to help you. They have live chat, phone support, and many other ways to connect them for help.
How Much Does SFM Cost?
They have several membership options that can suit your personal goals. They have STUDENT ACCESS, ESSENTIAL MEMBERSHIP($295 for enrollment and $97 per month), and ELITE MEMBERSHIP($2500).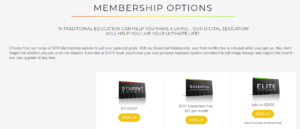 When you sign up, you will be under Student access which will just include the Digital Business Introduction, and just modules on learning how to make money in this program. Essentially, you haven't started anything yet, it is mainly just introduction until you sign up for Essential Membership.
And they say the Elite Membership is just like an add-on. They have exclusive seminars just for this group. They promised high-ticket sales on this group.
Who Is SFM For?
They promised to help existing business owners and beginners who want to make money online through affiliate marketing.
My Experience With The Six Figure Mentors.
Their lead page is really very attractive, I tell you. That is why I was captivated and signed up on this platform.
As a beginner during that time, I was so eager to learn so much about affiliate marketing. So, I went to their dashboard right away and started viewing their initial training. Just to see how this platform works.
It was a painful experience. The owner kept talking about how affiliate marketing works and how their program works. There are so many stories, testimonials, and I am so ready to take action!
But, before I can start and do anything, you need to sign up first! What??
That my friend was a red flag for me! I did not even bother to continue with that platform. (Read on How to Find the Best Affiliate Program).
My Final Thoughts About SFM
Is The Six Figure Mentor a Scam? No, it is not a scam. But will I recommend it? No.
You see, people who are looking to be an affiliate marketer are themselves trying to look for ways on how to make money online. If this platform is the very first thing you will encounter in your pursuit in finding a profitable way to earn income, you may not even continue on going to this route – online business.
You need to have a platform which is honest and most of all willing to support you all the way. It should be a platform that will let you "feel" the real online business even to the point you have not paid anything yet. You need to have a platform that will let you "taste" what they offer.
I am so lucky and fortunate that I have found a platform that helped me in my career as an Affiliate Marketer. Let me introduce to you Wealthy Affiliate. It is an honest platform with good-minded owners and members who are willing to support you in this line of business.
Have a look into what Wealthy Affiliate offers and I for one, aside from many other members of the community will welcome you.
Wealthy Affiliate has helped thousands of newbies and even experienced online entrepreneurs succeed in their business.
Check it out, it is free to sign up. If ever you sign up, I will be one of your mentors.  I hope to see you inside.
All the best!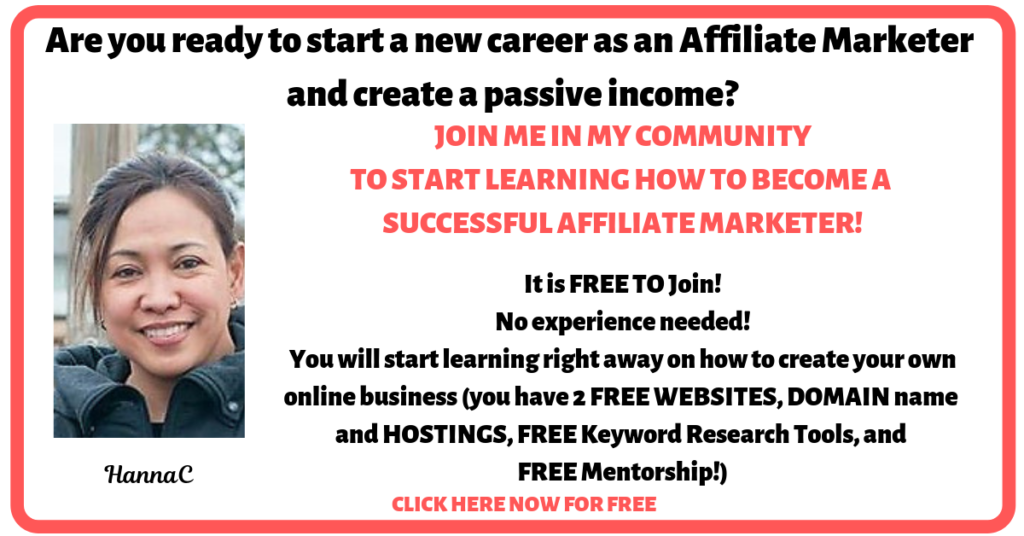 If you have any thoughts about this article, I appreciate your comment. Thanks in advance.