You may have started a website, and it is already gaining a few visitors. But what you want now is really to get more traffic, more people visiting your site.
Do you know that there is a secret to increasing traffic on a website for free?
This secret is a proven strategy.
Do you ever wonder why some websites can generate more traffic than others?
What do you think they have?
You may have used all the methods and ways, but still not gaining the traffic that you want.
You want more traffic to establish authority and revenues in the long run.
What Is The Secret On How To Increase Traffic On A Website For Free?
The real secret has something to do with the contents of their article.
Content Is King! That is true, tried, and tested!
This is the secret – your contents should have a high-quality, should be helpful, and worthwhile.
Before you do anything, first and foremost, you have to have good contents on your websites.
Having these kinds of contents will give you an authority in your niche. You have to prove that you provide value to people and you can do that if you are sending them to a site that helps them out.  A website that is worth their time.
If you have excellent quality contents on your website, these contents will be promoted and get shared easily.
That means every single post you write should be a powerful one. If you are going to write a couple of paragraphs of some nonsense, then you can't expect traffic or even magic to happen.
Remember a high-quality content is easier to promote.
Great content helps your audience solve a problem.
Great content is actionable.
Great content is smart.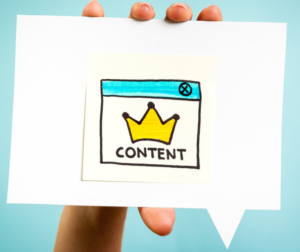 How To Write Quality Content For Your Website?
The basis of writing good quality content is by using the right keywords.
If you learn how to choose the right keywords effectively, you're going to improve your chances of getting ranked in Google and other search engines.
As you establish your website and have been writing excellent and quality contents, this will lead to authority. Meaning, search engines such as Google, Bing, and Yahoo will start assigning authority to your website.
Authority will lead to rankings.
Rankings will lead to more traffic and of course – ultimately an opportunity to earn more revenue.
This is the real benefits of SEO in a nutshell!
So, to drive more traffic to your website, you have to understand that great content is the foundation of getting significant traffic.
If You Know The Secret, You Have The Edge!
There are millions of bloggers out there, and yet only 25% of them get over 5000 page views a month.
Think about that.
Only 25% of the blogs in the world get over 100 people a day to visit them. Getting 100 people to come to your website every single day shouldn't be hard if you have a strong foundation of content.
So, before you worry about traffic, you need to worry about creating good quality content.
Watch this video:  Creating Keyword Rich Content for SEO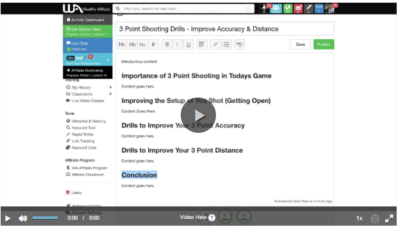 Methods On How To Increase Traffic On Your Website For Free
So now, hopefully, you have understood the importance of having good quality contents on your website.
If you now have written contents that are of high quality, then, it is time to promote them.
What you will learn next are the basics I used to drive for more traffic to my website – for free.
Here are the best ways to increase traffic to your website:

1. Understanding SEO and Backlinks.
This is my number one of all the ways. I know I'm redundant; it is still part of getting to write good and quality contents for your website.
This is huge because most bloggers miss this opportunity because they don't merely know what is required to do well in search engines like Google.
It is simply using the right keywords and adding backlinks to your site.
Learn more: Understanding SEO and Backlinks.

2. Joining Groups Of Your Targeted Audience.
This is an easy one. You don't want to waste your time promoting your content to people that don't care about it, so the logical thing is to do is to find the people that would be interested in your website.
Almost every niche topic has online communities somewhere. There are blogs, forums, Facebook groups, other such places.
Your goal is to find this place and then make yourself a valuable member of the community you have chosen.
The mistake I notice is that most bloggers do is that they join these communities, and then they start sharing their content right away. This probably may work, but not all the time. What you want to do is to make a name of yourself first. They need to know and trust you. Then, eventually, they will be interested in what you offer.
Also, it is good to do a bit of research. Try to gain a better understanding of your audience`s problems. This will help you provide needed solutions that people are willing to pay for and talk about.
Try to build stronger relationships with other bloggers too. Building this relationship may help you grow traffic to your website.
Once you have built this trust to your audience and other bloggers, you are giving yourself a shot of creating traffic to your website, since they want to know more about you and your works.
3. Getting The Most Of Social Media.
Trying to leverage social media to promote your website is an excellent way to create traffic.
It is always good to build up an audience in any of these platforms as this will allow you to spread what you want to offer and also reach easily to your targeted audience.
In my experience, among all social media, YouTube and Pinterest are the ones that give me more traffic. But this is just me. It is up to you where you want to promote yourself.
4. Get In Touch With Influencers Of Your Niche.
Do you know what influencers are? The meaning of influencers, in terms of marketing, is they have the ability to change other people`s behavior and beliefs. In social media, they are the most popular ones because they have built tons of followers. So, whatever the influencer promotes, more or less, it could reach all the followers.
It is good to get in touch with an influencer and drop a note or two. Some influencers will ask for some money, but there are who don't. So give it a try.
5. Sending Emails To Your Mailing List.
I am not sure by now if you have already started creating your email list, but if you don't, start building soon.
Free Lesson on Email Marketing Walkthrough.
Using this email list will help build your traffic in the long run. You might think people who signed-up in your email list might not care about the things you write.
Send emails that are not only about what you offer, but you can also send emails too about your life. Sharing what you are up to and what you have found out on the internet that you think may be interest around your niche.
This works well if you do not have anything published during the week, you can still find some impressive piece of contents to share with your audience.
If you have good contents, you will have people that would appreciate receiving emails from you. Also, there are still a group of people that don't have social media accounts, but they do have emails.
So, it is a smart move to use this method to add traffic to your website.
6. Guest Blogging.
To some bloggers, guest blogging is for them not helpful in terms of creating traffic.
For me, this depends on some factors.
When you want to write something for a particular website, first of all, it should be something about your niche. It should also be a very popular website and lots of traffic.
You can be successful as a guest blog and gain in lots of traffic by doing research first before you apply to be a guest blog.
You should also consider accepting guest bloggers on your site. But make sure that it should also be high-quality content that will be helpful for your website.
Make sure to stick to your standards and brand – focused specifically on your niche.
HELPFUL READ: Guest Blogging – Do`s And Don`ts For Extremely Powerful Backlinks
7. Commenting On The Articles Of Other Websites.
Using the opportunity to leave comments on other posts or articles will also help increase traffic on your website.
Make sure you write comments that are of quality too, not just a simple and no relevance – it may be considered spam.
Your goal is not to get everyone that comes across your comment to click your link. The goal is to get people that care about the topic to notice your comments and click.
It is also essential to keep in mind that not all blogs are created equal. If you do not see much participation in the comment area for an article, then maybe their audience is not that large as you think or they do not do a good job keeping their audience engaged.
8. Participating in Question and Answer Sites.
Questions and answer sites, like Quora, is an excellent opportunity to establish authority.
Similar to commenting on articles, your goal is not to answer every single question that you come across. You want to be strategic in a way and make sure that you can only provide high-quality content to the community.
I mentioned the strategic way. This has something to do with research as well. Your answer should also be of good quality content – with rich keywords. The key is to make your answer authentic.
9. Hosting Webinars.
If guest blogging is old news, the webinars are the new things in terms of marketing.
Webinars are a great way to gain access to brand new audiences.
When you already have an authority site, you can host your webinars, and you speak in front of the camera.
But if you are just a beginner and would like to generate traffic, then you can do one of these two things:
(1) Get someone else`s webinar or
(2) Bring someone else onto your webinar.
Either way, traffic is going to go both ways. Bloggers would love to cross-promote and share around. All you need to do is find someone that already has an audience that will benefit from your expertise.
10. Join In An Affiliate Marketing Platform.
I am not sure of other kinds of affiliate marketing platform, but the community I joined in to learn how to make money online has its community of affiliate marketers – beginners and experienced ones.
This community helps each other out in so many ways – from building your own online business, its tricks and ways, to using tools that can help you be successful in online business.
There are also helps in getting comments and feedback about your website.
This is a great way to increase and boost traffic to your website.
If you want to find out about this, I invite you to join my community – it is free to join.
My Final Thoughts.
I have given you the most secret, which is not really a secret, in increasing traffic to your website aside from other best ways which are free.
Writing high-quality, keyword-rich content is the most important thing when you want to gain traffic to your website.
By working on making excellent quality contents and using all these free methods, you will be able to dive in a lot deeper into your audience and will gain authority of your website.
The most important rule though for growing your website is to always actively creating contents and promoting it. It doesn't grow on autopilot. It is something like a plant that needs constant nurturing in order to grow.
Once you are doing this consistently, your site will establish authority, then increase traffic – which will then be an opportunity to create for you a profitable online business.

Do you have any thoughts about this article? Are there still other ways that you know can increase traffic to a website or a blog? If there`s anything you want to share, please leave a comment below.
All the best!