One of the best ways to make passive income online is through affiliate marketing.
Although, affiliate marketing is not as simple as it appears. There are guidelines you need to know so you can achieve success in online marketing. The good thing, these guidelines are easy to follow and achievable.
In this article, I will tell you these 20 must-read affiliate marketing tips for beginners who want to maximize their affiliate revenues.
But let me refresh you first, what is affiliate marketing about.
Introduction to Affiliate Marketing.
The best definition of affiliate marketing, in a nutshell, is by Pat Flynn:
"Affiliate marketing is the process of earning a commission by promoting other people's products. You find a product you like, you promote it to others and earn a piece of the profit for each sale that you make."
You can read more about affiliate marketing in my article: A Complete Beginner's Guide For Affiliate Marketing.
In order to make a profitable online business, you have to make sure you have the right training, tools, and support from other affiliate marketers. Besides, the goal here is to create a profitable business, so you have to know great recommendations and tips to be successful.
Here, I have collected affiliate marketing tips for beginners that are all essential for you to generate better results. Just go through all these tactics and strategies and determine what changes you should make on your own online business.
If you have done a proper and well-laid online business, you are for sure will build a very successful online business.
Let`s get started.
Here are the 20 Best Affiliate Marketing Tips [Beginners]
1. CHOOSE A WELL-RESEARCHED NICHE
The very step when you are going to do an affiliate marketing business is to choose your niche. I suggest choosing a niche that is well-researched.
Remember, you are going to help your readers in answering what they need (which is the main reason in creating your website – to give an answer to your readers' needs)
Meaning, you should already have an idea on the topic of your niche, its sub-topics, what products are you going to promote which are connected to your niche, how are you going to promote your niche, and what affiliates you need to join that will all end up helping your readers/audience.
In a way, they say it is best to choose a niche that you are interested in because you already know it`s whereabouts.
But, you can also choose a niche which you know will have the potential of a profitable online business.
So, make sure that when you are choosing a niche, it is well-thought of and you have researched everything all about it.
Read more on:  How To Succeed In Your Chosen Niche.
2. HAVE AN IDEA OF YOUR MARKET [AUDIENCE]
Knowing how to help your audience by knowing what they need, will be very helpful for your online business.
Make sure you know the products that your targeted audience can get from you. Consider all the reasons why someone is going to follow you in your blog or your online business.
If you know what your audience wants, you will know what you can give them.
The bottom line here is to know what your audience needs or what are the products that can solve your reader`s problems.
3. GOOD PLANNING FOR KEYWORDS TO USE
In the affiliate marketing world, the use of the right keywords in your online business is essential.
Make a list of keywords that you are going to use in creating articles and promotional headlines. Using a keyword research tool such as Jaaxy will be helpful for you.
If you have the right keywords, this will bring you organic traffic and possible affiliate sales.
Read more about Understanding SEO for Beginners.
4. WRITE VALUABLE CONTENTS
For me, "content is king"! I would always emphasize on writing valuable content. So, when writing content, you have to invest time and hard work just to create a very powerful article for your blog.
Whatever you write, make it useful, informative and helpful for your readers.
Having great content for your readers will have the potential to compel readers to stay on the page and read your advice.
In any kind of articles you write,  such as reviewing products or just simply answering a query, make sure your content is a go-to source for your readers.
It is also good to practice writing unique and fresh content, using short sentences and appropriate use of keywords.

5. MAKE EVERGREEN CONTENT
Evergreen content is content that is always relevant. This kind of content does not become dated and it is always going to be helpful anytime.
This kind of content is necessary in order to be found in the search engines. Thus, having evergreen content is a powerful style to drive traffic for the long term.
This type of content won't fade away easily. So, make sure you have evergreen contents on your blog.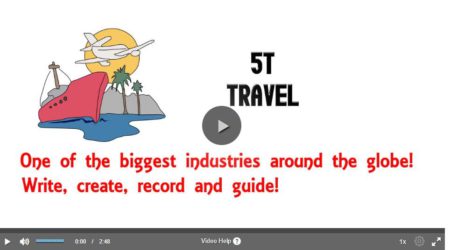 6. PLAN AN AFFILIATE MARKETING STRATEGY
Having a well-planned affiliate marketing strategy is an essential step to become a successful affiliate marketer.
Examples of affiliate marketing strategies are: choosing a well-researched niche market, providing creative promotional materials, building a strong brand, using different traffic sources, leveraging different social media platforms, and some other strategies.
Having a good plan is a very important factor.
For beginners, you can start by choosing relevant affiliate product, picking the right content formats, ideas to increase engagement with readers, content promotion strategies and implementing the effective affiliate marketing techniques.
7. LEGALIZE YOUR BUSINESS
Nowadays, affiliate networks have made it compulsory to abide by the legal guidelines. If you are new to affiliate marketing, you should pay attention to areas of compliance to avoid any further violations.
As an affiliate marketer, it is good to know to follow the FTC guidelines. FTC thinks that if you are not displaying the appropriate disclosures on your website, social media or any other online platform, then you are deceiving your audience.
Read the whole FTC's Endorsement Guides
8. ADD AFFILIATE DISCLAIMERS
Having mentioned about the legality, I am reminding you again to add affiliate disclaimers whenever you are promoting an affiliate product in your website or any other platforms.
If you have a website, you can add disclosure on your blog posts, in the sidebar, in the main heading or footer.
In your social media platforms, you can add a hashtag (#) such as #aff, #ad, or #affiliate when you are promoting affiliate links.
When sending emails, yo make sure you add affiliate disclosure in your emails.
You can Read myaffiliatediary,com`s Affiliate/Earning Disclaimer
9. CHOOSE AFFILIATE PRODUCTS WISELY
As a beginner, I know it will be very hard which affiliate product to choose. This again will take a lot of research and thinking. But, when choosing a product, be careful.
Choose an affiliate product that you are wholeheartedly willing to promote.
The reality here is that you cannot risk your audience's trust for the sake of the commission. Sometimes, promoting irrelevant and poor quality products can lose your audience.
That is why it is important to research and read more about the affiliate products before promoting it.
10. EXPERIMENT ON DIFFERENT AFFILIATE NETWORKS AND PROGRAMS
Just to give you an idea, an affiliate network is different from an affiliate program.
Affiliate Network acts as a liaison between an advertiser and you(blogger). Examples: Amazon Associates, Share-a-sale, ClickBank.
Affiliate Programs are programs that you are dealing directly (the advertisers) and you use their links and banners to promote.
As an example, I am promoting the Wealthy Affiliate Program for affiliate marketing training.  It is free to join with free training, tools, and mentorship when you sign-up.
My tip is to try using different programs so you can find the best one that suits the need of your online business.
If a certain affiliate program does not work in your favor, try another new program.
Maybe, the new affiliate program offers better products or this may be better for your readers. Try to experiment and see what really works.
You can also consider trying another affiliate program that has a better payout, creative promotional tools, discounts, coupons, etc.
Read my article on:  What is the Best Affiliate Marketing Program for Beginners
11. PROMOTE PRODUCTS THAT YOU USE
This is also one of the important ones that you should always consider.
As a beginner in affiliate marketing, choose products which you have personally tried and used.
Since you are a user of the product, you are more confident in recommending it to someone else.
For example, if you have read a book, it is easier to write a review about it. Or, if you bought a service or any tools that you use for blogging, it gives you a clear understanding of how it exactly works and you can easily share your experience and your thoughts.
All these products and tools that you use will be your recommendations. So, when a reader asks a question about it, guiding them will be easier.
To be a successful affiliate marketer, you have to win your reader's trust.
If it is necessary for you to give a review on certain products, you can ask for a sample, test it, and then write your opinion about a product, or use their trial feature before using any paid tool or subscription.
Honestly, if you need to invest money in trying out some products, I think it is still a better idea.
12. BE ENGAGING TO YOUR AUDIENCE
Since you are building an online business, it is essential to build engagement with your audience.
Connecting with them through your writing style is a start by using simple words and sentences. Write contents that encourage readers to leave a comment, like adding a question at the end of your article.  These are tactics that will increase engagement.
Also, make sure that you answer their comments right away.
By the way, I invite you to check out this community of affiliate entrepreneurs that help each other out. Try to check and see how each and everyone helps in engagements.  It is a FREE to sign-up. JOIN HERE IF INTERESTED and I will see you in the inside.
13. OPTIMIZE YOUR WEBSITE
Building a website is the initial step in the success of your online business. Optimizing it is the next big step because this is necessary to make income.
Writing keyword-rich content is important for SEO optimization. Adding backlinks is also a way of optimizing your websites.
Positioning your banners and links are also essential.
All these that I have mentioned are all important steps if you want to optimize your website. Make sure you follow this step well.
Read Lesson:  How To Optimize Content For SEO
14. BE PATIENT – AFFILIATE MARKETING TAKES TIME
It is always a question, especially for beginners, how long does it take to make money through affiliate marketing?
Honestly, affiliate marketing takes time, especially if you are using a proven strategy of making money online.
In order for you to create a passive income through affiliate marketing, it takes patience and perseverance in order to be successful.
Create great keyword-rich contents and be consistent, these are the keys.
Always get motivated, I know there will be bumps along the way… be focused on your goal.
You know the reason why you are pursuing to be a successful affiliate marketer.  You know that this business works, and it truly does work!
Things work differently for everyone.
Just continue doing what you have learned and stick to your goals.

15. CONTINUE LEARNING – EDUCATE YOURSELF
For beginners and for those experienced ones, there is always room for improvement. You have to stay current and you do this by learning from other sources and experts.
Try to follow those experts on your niche. These experts remain updated with trends, events, and always on the lookout on something new and following them will give you an edge.
Continue researching and learning. Your knowledge is your investment in this business.
And in reality, our world changes so fast, you have to be updated on what`s new so you can follow the trend.
16. REACH OUT TO OTHER AFFILIATE MARKETERS
As a beginner, you may have lots of questions in your mind. Do not hesitate to ask questions.
Reach out other affiliate marketers and get help or answers on any issues pertaining to your online business or your niche.
Most of these affiliate marketers are almost always willing to help because they know that they were beginners too at some point in their life.
If one affiliate marketer doesn't give an answer, try another one. There are so many out there willing to help and guide you.
There is this community that I am a member of. This is a community of like-minded entrepreneurs that are willing to help and guide anyone who wants to be successful in affiliate marketing.
I invite you to join my community – and check it out.
17. BE HONEST TO YOUR AUDIENCE
It is always important to really be honest to your readers. Never trick them or lie to them.
In creating your online business, you are actually building yourself and your integrity.
If your readers trust your words, your ideas, and your recommendations, then your readers will become your buyers.
So make sure that you are always true to your words.
18. STAY RELEVANT
You must stay relevant at all times.
Your contents on your website should always be appropriate to what you intend it to be.
Be relevant from your chosen niche to your affiliate networks or programs, to your products and to your audiences' needs. Everything should all be connected.
Do not incorporate any product that has no sense to your niche just for the sake of a better commission.
19. STAY CURRENT
Building an online business takes time and effort, as I've already mentioned.
You have to take care of your website by always checking and adding contents. Sometimes you need to update your old blogs to make it current.
Promote products that are up to date. Make sure you know what are the trends and what are new in the market.
Always stay current.
Helpful sites:  Quora and Google Trends.
20. BE TRUSTWORTHY
Last but not least, make sure you are trustworthy.
If you want to be a successful affiliate marketer, you need to build that trust from your audience.
Being trustworthy will give you lots of followers and readers, and eventually create for you a sustainable online business.
My Final Thoughts.
As a beginner to affiliate marketing, it is good to have a guideline in order to be successful in this business.
I have enumerated for you 20 tips for you to become a successful affiliate marketer that I have learned through my experience as an affiliate marketer.
In all these tips, the most important for me is making sure to be honest in all aspects of your business. Being honest will help you build trust from your audience.
If you readers believe in what you have to say and offer, then you have created your brand and a name as an affiliate marketer.
These are all important tips that I hope you can easily follow.
If you like these tips, please do Share it or Pin it!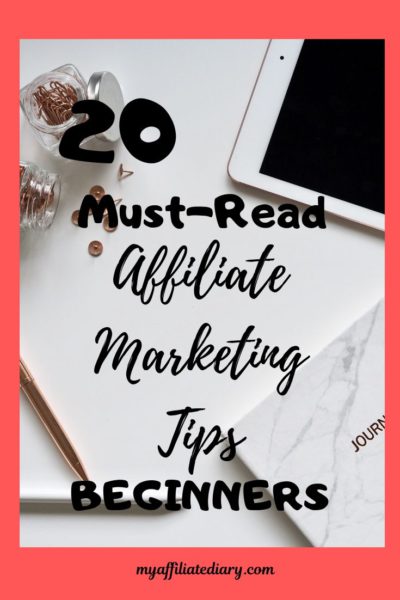 Do you have any other tips that you may want to add? Or do you have any thoughts about these tips? Please do not hesitate to leave a comment down below.
Thank you for reading!
All the best!