This is a simple BEGINNER'S GUIDE to help you on how to create a website, step by step.
It is very simple and easy to understand lessons that will help you build your website and start your own online business right away.
Why Do You Need To Have A Website?
If you have an idea and want to make money by leveraging the internet, the best way to do this is to have your own website.
A website is the foundation of your business.
It is your created platform for your chosen niche (your idea) which you will be promoting to drive traffic or visitors and eventually create money online.
Read also my COMPLETE BEGINNER'S GUIDE for Affilate Marketing.
Creating a website sounds hard especially if you are just starting in an online business who doesn't have any knowledge in the "codings" which expert do in creating web pages. But do you know that even if you are just a beginner with no experience, you can actually build your own website?
In this guide, I am going to give you a step by step process, in a very easy way to follow procedure using the most advanced yet simplistic platform in the world I use in Wealthy Affiliate Program, SiteRubix.
There are 4 steps in creating a website:  >>Check Video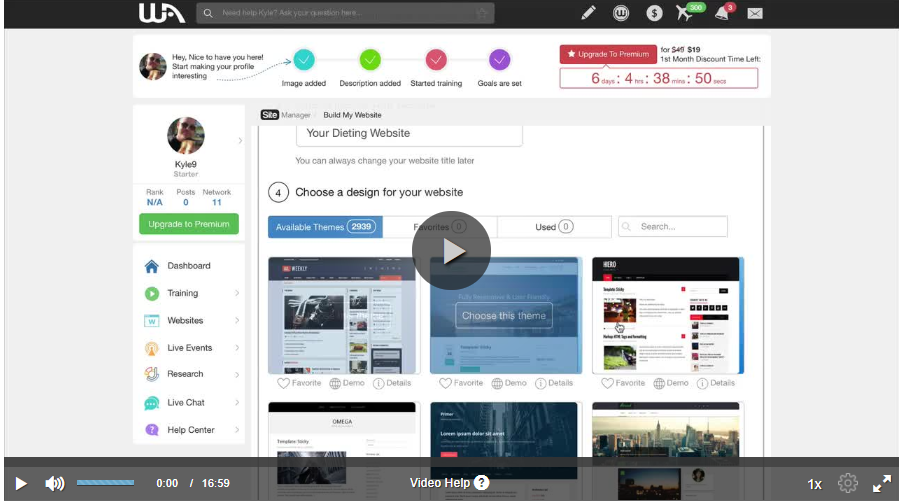 Step 1. Choose the kind of website.
When you get to the SiteRubix, it can access you to the SiteBuilder and everything else that is related to your website.
There are two options you can choose: creating a FREE website or creating with your OWN domain.
A domain is the address name where people can access your website through the internet. Domain names are registered, it is your property. There are several platforms where you can buy your own domain. You can also buy and register your domain name at Wealthy Affiliate through their SiteDomain platform and will allow you also to build your own website.
In this step-by-step guide, we will be using the FREE website which you can use as a Starter Member at Wealthy Affiliate. You are actually given 2 free websites and hosting as a Free Starter Member.
Step 2. Choose a domain name
By now, since you already have an idea or a  niche for your business, you may now think of a  particular domain name or a brand name for your website.
I suggest you name your site almost similar to your niche.  Also, if you are thinking of your own branding, using your own name is also a good way to name as your domain name.
There`s a "domain field" which you can type your domain, do not put any space in between words when you are typing your domain name. This will then let you know if it is available or not. If it is, then that is great, but if not, try to come up again with any other name you have in mind.
Step 3. Choose a website name
There are instances that your domain name is different from your website name.  It is all up to you.
Or, you can simply have the same website name as your domain name. But make sure to write it correctly.  Domain names are written with no space and all small letters. For example, this website`s name is My Affiliate Diary, but its domain name is myaffiliatediary.com.
Then,
Step 4. Choose a website`s design.
This is one of my favorite steps, choosing the "look" of your website. There are thousands of designs or themes for a website. In Wealthy Affiliate, as a Starter Member, you have access to 12 different kinds of themes.
But if you upgrade to Premium Membership, you have access to more or less 2,464 designs or themes available to choose from for your website that will work for any niche.
Do you want to check out this whole training of Building a Website in Wealthy Affiliate?
In Conclusion
There are many ways to make money online.  You can even start an online business without any website at all.
But the best way to have an online business is by having your own website.  You can use your website to create passive income.
Read my article How to make money online from a website?
As a beginner, you may be thinking that creating a website is hard when you are wanting to make money online.  You may even be thinking of hiring a "professional" to create a website for you. But in Wealthy Affiliate, anyone with no experience can build his or her own website.  This platform makes it easy for anybody to build a website and plan to start an online business.
They have a very easy to follow steps in creating a website and yet using the most powerful hosting platform that you can easily manage a business owner with no previous experience in online marketing.
I invite you to TRY WEALTHY AFFILIATE. NO RISK. NO CREDIT CARD NEEDED.
Thank you for reading this simple BEGINNER'S GUIDE on how to create a website.
All the best!
Any thoughts on this article, or any questions?  I can be of help, please leave a comment.