You may have interest in the Wealthy Affiliate Program or maybe also looking for what is the Wealthy Affiliate Bootcamp all about, that is why you are here.
Or maybe also you are also looking for a way to make money online by joining an affiliate program.
Wealthy Affiliate is an affiliate marketing platform that will help you build your own online business by using their proven strategy. It has all the training, tools, and mentorship which are all necessary to guide you in creating a very sustainable online business.
It is a program for beginners and even to those experienced ones that will help leverage the internet to make money online.
READ here my Wealthy Affiliate Review.
A Little Bit About Me And Wealthy Affiliate.
Just to let you know, I am a member of Wealthy Affiliate for almost 2 years now (as of this writing), and it is the platform that has taught me everything I need to know to create a sustainable online business.
Wealthy Affiliate is my #1 Recommendation when it comes to affiliate marketing platform.
Before Wealthy Affiliate, I have encountered so many kinds of programs that either scammed me or didn't help me at all.  Instead of making money, I lost money just finding the right platform.
WA (Wealthy Affiliate) is the only platform that has helped me as an affiliate marketer.
When I joined WA, even as a starter member, I was able to build a website right away. Their training is well created and easy to understand that even someone with no experience can start to learn and create a profitable business online.
This website is created from its training and tools. My intention of creating this site is to help you build an online business through its proven strategy that I have learned.
What Are The Training In Wealthy Affiliate?
There are tons of training and courses you will learn in Wealthy Affiliate. All the training and courses are all updated.  There are also live training once a week which is all very useful. New tips and tricks are always there to make sure you get to create a profitable business.
But for this article, I will only cover the two basic and major ones.
Here Are The Two (2) Major Training Courses:
The Online Entrepreneur Certification (OEC) – which has 5 levels of courses (10 lessons in each level). This training will walk you through the process of creating and growing a business with any niche you like. It will teach you from building a website to writing contents, getting visitors to your website and monetizing your website, and a lot more other lessons that will help you be successful in affiliate marketing.
The Affiliate Bootcamp – has 7 levels of courses (10 lessons in each level). This training will walk you through the process of creating and establishing a business in a niche related to the promoting of Wealthy Affiliate. It will also teach you from creating a website, content writing, traffic building, and a lot more.
Take note, basically, these two training courses are almost the same (in a way), but the Affiliate Bootcamp is more geared towards the promotion of Wealthy Affiliate and its related niches.
Let me explain further,
What Do You Get When You Sign Up For Wealthy Affiliate?
When you sign up for the program, by the way, it is FREE to SIGN UP in Wealthy Affiliate, you will get the chance to start learning right away.
You will get free lessons: "GET STARTED" course (with 10 lessons).
You will get 2 websites for free with domains and hosting.
You will get to use the keyword research tool (Jaaxy Lite).
And You will get a chance to be part of the community that will help you throughout your training.
If after the 10 lessons you decided to go further, like doing the rest of the training, you can upgrade for the PREMIUM membership.
If not, meaning that the 10 lessons are enough for your journey to online business, you can stay as long as you want (lifetime) as a free member!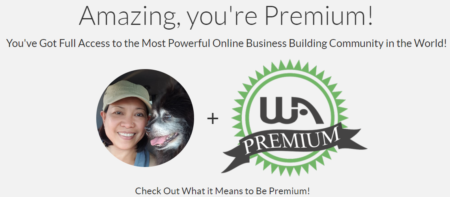 What Is The Premium Level Of Wealthy Affiliate?
Premium Level is the upgraded membership option. If you decide right away within 7 days, you will get a BONUS RATE on your first month (only $19), and the next month is $49 every month. There is also a 6-month and a yearly rate you can avail, with discounts.
You can check what`s included in being a Premium Member here.
One of the differences between a Starter (Free) Member and a Premium Member, is that:
A Starter/Free Member can only learn the first 10 lessons in the Online Entrepreneurship Course (the Getting Started Lesson)
If you are a Premium Member, you can learn all the lessons and training, all available to you, including the Affiliate Bootcamp.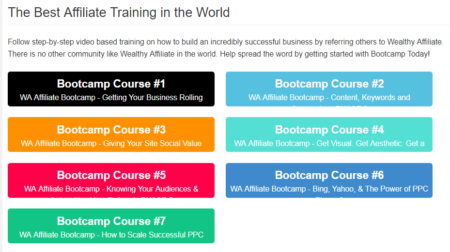 What Is Wealthy Affiliate Bootcamp?
As I`ve mentioned earlier, Wealthy Affiliate Bootcamp is a walkthrough of the whole process of creating your successful online business.
Here are the 7 Levels of Courses in the Wealthy Affiliate Bootcamp:
Level 1: Getting Your Business Rolling (10 lessons).
This is the introduction to the Wealthy Affiliate program. It intends you to set your goals properly and build a solid foundation that will create for your a sustainable and successful online business for the long term.
In this course, you will learn how to build an "authority" website that will earn your income by promoting Wealthy Affiliate.
Level 2: Content, Keywords, and Conversions (10 lessons).
The focus of this lesson is writing content. It includes the actual writing of content on your website, how to make it presentable and readable, and also how to use the right "keywords" to be able to rank in the search engine.
This is one of the most important parts of your website, the writing of keyword-rich content. You want your website to rank the first page on google and other search engines. This set of the lesson will teach you how to use a keyword research tool and the proven strategy to get rankings.
Level 3: Giving Your Site Social Value (10 lessons).
The focus of this lesson is to help you promote your website by using social media. You will learn the social aspects of your website that you can incorporate to your site to make it more social, more engaging, and so that you can get more visitors and "traffic" to your website.
Level 4: Get Visual. Get Aesthetic. Get Brand Through Media (10 lessons).
The focus of this lesson is making you understand your audiences and to have skills in respect to converting a visitor on your website to an invite… and then to a referral.
This training will also teach you how to make videos and other tools to help you in the conversion.
Level 5: Knowing Your Audiences & Catapulting Your Referrals (10 lessons).
These lessons will cover a lot of topics that will mainly focus on a better understanding of how to manage the conversions of your audiences. It will help your improved the skills in converting visitors to your website to an invite… and then to a referral.
Level 6: Bing, Yahoo, & The Power Of PPC (10 lessons).
The focus of this training is to leverage the other part of search engines, not only Google. It is oftentimes forgotten that there is also Bing and Yahoo that can be used to create traffic to your site. These are added potentials that can give your leads and referrals.
Level 7: How To Scale Successful PPC Campaigns (10 lessons).
This training will teach you how to use Pay-Per-Click or PPC that you can incorporate to your business. This is scaling up your campaign to create more success.
What Happens While You Learn?
I just want to make it clear that at each level, there are 10 lessons.
Every time you finish a lesson, there are tasks you need to achieve. So, basically, you are learning, and at the same time, you are already creating your own online business.
Sometimes, you will notice as you go along, Google will already find your site, meaning your website or your post has just been indexed by Google.
Also, while you're finishing your task in each lesson and building your website, you will have the opportunity to be interacting with the whole community of Wealthy Affiliate members (Starter/Free members and Premium members).
These members of the community will help and guide you along the way. You can ask questions, ask help, or even share your experience and thoughts in the inside of Wealthy Affiliate. Someone will always be there to help you.
I think this is one of the best parts of this platform. These are real people willing to guide and help you achieve your goal.
My Final Thoughts.
Wealthy Affiliate Bootcamp offers so much training and lessons that are truly helpful to anyone looking for an affiliate platform to guide them in building their own online business. With all the training, tools, and the whole community, I can definitely say that this is the platform I will recommend.
It is a program best for beginners and experienced ones. This program has helped a lot of people become Super Affiliates.
This program uses the best strategy there is that will help you create a sustainable online business.
What do you think about Wealthy Affiliate Bootcamp? Do you have any thoughts you would like to share about this article? Please do not hesitate to leave a comment below.
All the best!