Welcome to my Five Minute Profit Sites Review!
Is the Five Minute Profit Sites A Scam?
I am very glad you came across this review before you decided on going into any further with the Five Minute Profit Sites.
This is a good way of finding out if this product is LEGIT or is it a SCAM?
The Five Minute Profit Sites claim that you can earn at least 517$/day…

In just less than 5 minutes and 17 clicks!

Sounds good to be true? Let us see..
---
Overview and Ratings
Product Name: Five Minute Profit Sites
Product Owner/Founder: Sam Smith?
Product Website: Five Minute Profit Sites
Product Description: Software for E-business (Sales Funnels)
Training Programs: 2 out of 10
Support Programs: 2 out of 10
myaffilliatediary.com Rating: 2 out of 10
---
What is the Five Minute Profit Sites?
Five Minute Profit Sites is essentially a "propriety software" that will help you create "high converting websites" (as claimed) that will help you make money automatically as in autopilot!
They claimed that through this software/trainings, it will help you earn over 519$/day. You will utilize free software to create a website. The more clicks you get for your site, the more you will make. As claimed, you can use this software for free and will help you start making money right away.
How does it work?
The process of Five Minute Profit Sites is pretty simple and straightforward with just a few quick steps to follow. These are the steps in their Member`s Area:
So, basically, here are the steps needed to get started with the program:
1. Download and install the software.
2. Select the "Build your site" option.
3. Enter your Clickbank account (or sign up if you do not have one).
4. Choose a domain name.
5. Create an account on Aweber.
6. Enter the Aweber code into the software.
7. The software will create your affiliate site.
After you`ve done so, your new website has a custom logo as well as a sales video that features a hired actor to convince your visitors to take action. So, whenever one of your visitors submits their email address through your site, they will be transferred to your Clickbank affiliate website.
What are the training and tools?
Five Minute Profit Sites is basically a software that uses point-and-click which is supposed to be easy to use for just about anyone.
There is in-depth instruction on how to find the site that sells the best products (in Clickbank) that you will have the best chances of promoting and make money as an affiliate.
The lessons within the software will lead you through the whole process step by step, thus, even those who have never done anything like this before will not probably have issues whatsoever with this system because it is very simple.
How much does it cost?
Well, according to their sales pitch, the software is supposed to be free. But still will cost you something. Read further, and you will know the truth.
Who is it for?
Anyone who wants to make a lot of money easy. Anybody who is using software to create passive income. Anyone who does not want to study and understand how the whole process of making money online.
Before I conclude this review, let me tell you my honest review with regard to Five Minute Profit Sites.
So, the REAL TRUTH!
First, I found the owners to be mysterious.
They have this video narrated by a certain Sam Smith, which I find weird. I feel that she is just an actress being paid to promote the product.
Second, I thought it was a FREE software,

but apparently, there`s a charge for the server cost which is 37$!!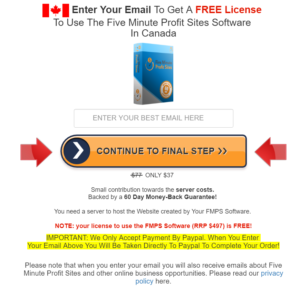 and not only that, it will cost more because there is surely an UPSELL! Look at this screenshot:
Aside from all these, of course, the hidden expenses that you will need: like the Aweber which you will need to pay in order to use their autoresponder.
And last thing I realized (which I know it is not the last thing), the "websites" they are claiming to be, are not websites. They are basically landing pages. Which really sucks!
But wait, having said all these,
there is something GOOD about Five Minute Profit Sites: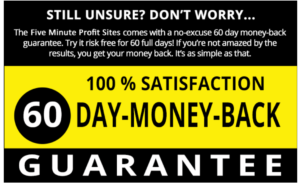 It`s a 60-day Money Back Guarantee, which is awesome. But I hope, getting your refund will not be a very painful procedure!
So, Is Five Minute Profit Sites a Scam?
For me, YES!
It is because most of what they claim is not true.
To some, this software may be very helpful. But I just find it misleading.
My Final Thoughts?
The Five Minute Profit Sites is just one of that software that will show you how to make money fast, as fast as 5 minutes and 17 clicks. For me, this is just one of those getting-rich-fast schemes, that is why I consider it a scam.
You see, I have always believed that in any form of business, you have to have the right start and the right foundation. I am lucky enough to have found the right platform that taught me how to really earn income online.
I would like to invite you to join in my community of people just like you – people who are trying to find the right tools and training to be successful in this business.  But these people in my community are helping each other become a successful affiliate marketer. If you are new in this field, or someone who already has experience and still finding the right ways how to be successful, I recommend you this platform.
Are you tired of finding the right way to make money online and doesn`t want any more scams?
When you join for FREE, you will get all these:
Lessons and training to start your online business.
2 Websites with Domains and Hostings.
Keyword Search Tools.
PLUS Mentorship!
If you do so, I will be one of your mentor, plus many other more who will help guide you all the way!
Hoping to see you in the inside:)

If you have any thoughts about this article, please leave a comment.