One of the most lucrative ways of creating money online is by using affiliate marketing system.
How to make money using affiliate marketing? Let me tell you first what is affiliate marketing.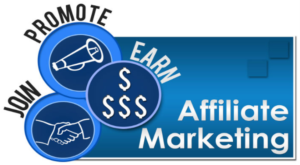 What is Affiliate Marketing?
Affiliate marketing is a way to earn money from another company by promoting their products or services online. You earn a commission for sending new customers to their company.
If this is done properly and successfully, your online business as an affiliate marketer will let you generate a passive income, even while you sleep. It is passive income because theoretically you just need to add links to your website, and readers can click these links anytime without your input.
I believe affiliate marketing is really very popular among digital entrepreneurs since it is really a straightforward way to make money. With an amount of time and effort you put in this kind of business, this is going to be a good way to earn extra money or even be your source of income if you become a full-time affiliate marketer.
But just be clear, in order to be successful at affiliate marketing and make a lot of money, you are required to really put in the works. You have to spend a lot of time building relationships, creating promotional content and really pushing your brand. You really need to promote yourself and do it well.
Let me explain it to you further how does affiliate marketing work?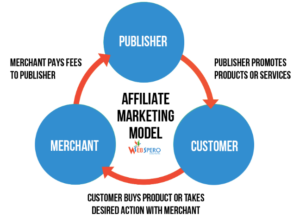 The first step, someone is searching on the internet and landed on your website, you are the publisher of that website. You are also called the affiliate marketer.
As a publisher or the affiliate marketer, you will do your best to promote a certain product. You are basically marketing. You have to attract potential buyers of what you promote, and try your best to convince that the product or service that you are offering is worth buying.
So, the publisher or the affiliate marketer uses different channels to market the products such as leveraging social networks or search engines using content marketing on websites.
The second step, now the aforementioned searcher on the internet is persuaded to click on your link because of his/her interest. He or she is then called the visitor of your website who then is converted to be the buyer.
The buyer is one of your target markets. Successful affiliate marketer understands the key to affiliate marketing success: that is finding the right target market or audience. Once an affiliate marketer has chosen a certain product or service, they must think about who is going to buy it.
Finding the right audience is the first step in their overall marketing strategy. For example, if your niche is selling swimsuits for women, you will target audience who are women, maybe between 30-40 yrs old. You will also think on where do you think these women will likely be targeted. Is it in social media or in a blog? This is something you also would consider.
The third step, the publisher now receives a certain commission from that sale coming from the company he/she is affiliated. That company is called the merchant.
The merchant is the real seller of these products or services you are promoting. The merchants are the ones paying you with the commission.
So, basically, you, who are reading this blog, is probably planning to be an affiliate marketer. If you, the creator of that website sells a product or a service of a particular merchant or company, and someone makes a purchase as a result of your marketing efforts, then you make money.
The neat thing about affiliate marketing is that it is beneficial to all parties: the affiliate marketer(publisher), the merchants, and the buyers (customers).
All the involved parties are benefiting and getting something from this type of relationships.
Are you ready to make money using affiliate marketing?
Are you willing to give your time and effort to understand how to create a passive income using affiliate marketing?
If so, be an affiliate marketer!
Here are the important steps you need to follow to become an affiliate marketer and make money:
1. Choose a niche
Your niche or the topic of your business is one of the biggest determining factors of your success in creating money. I have an article you may want to read how to find a niche for your website.
Another thing to consider when you are looking for a certain niche are the merchants (affiliate programs or affiliate networks) you want to join.
I know it is easy to get carried away at the beginning because honestly there are so many products and services that you can promote. For me, I promote products or services that I use and I trust.
So, just a piece of advice: do not ever recommend something you don't believe in just to get some money. You make sure to find something that you are happy to promote and that you know that your audience will really benefit from it. You will understand it in the long run. As I`ve mentioned a while ago, you are promoting yourself. Your audience should trust and believe in you.
2. Create a website or blog
Now you have a niche and an idea what products and services you want to promote, it is time to put them into a website. So, what kind of website are you planning to build? Is it a blog, an e-commerce website, a coaching website, or however you want to promote your products and services.
By the way, although it is NOT really necessary to have a website or a blog for affiliate promotion, it is a GREAT and recommended tool for your online business. You can leverage any other ways such as Pay Per Click (PPC), email marketing, social media marketing or any forms of advertising.
But for me, I think it is good to have a platform for your business, like a website.
Do you know that you can actually build a website for free? Try it out here:
3. Write good contents or posts
Your content is the key to making money in affiliate marketing. Writing content regularly around your chosen topic gives you the best chance of generating sales. The more informative articles that you post, the more product reviews, comments from the visitors of your website, and other consistent ways you can do to maintain your website, the greater the chance you have of attracting visitors.
When I say good contents, generally speaking, you are publishing high-quality articles. You use the right keywords to target the right audience. If you achieve this, then you are to generate significant sales.
The good thing, there are keyword research tools that you can use to write a high-quality article. I recommend Jaaxy.
4. Get rankings and visitors
Since we are aiming to make money using affiliate marketing, it is important to get traffic to your website. Meaning, you need to have lots of visitors to your website.
You will have visitors to your website if you are ranking well in the search engines, such as Google, Bing, or Yahoo. You have to be on the very first page, so people will see and have access to your article right away.
It is important to learn how to rank high in search engines. Again, this has something to do with how you create good contents on your website.
If you are successful in doing all these steps as an affiliate marketer,
Then, you will start to make money!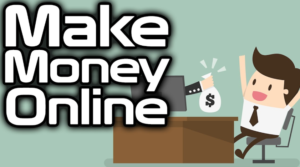 In Conclusion
Finally, you have learned how to make money using affiliate marketing. This is just the basic and I know there is still a lot to learn. Honestly, affiliate marketing is really a good way to make money and if you will put your time and effort in this business, you will be successful in it.
I have learned to be an affiliate marketer in my own trusted platform. It is a community of affiliate marketers, beginners, and experienced ones. What is good is about it is that this community help each other to become a successful affiliate marketer.
I invite you to join my community. It is free to join!
What`s included?
2 free websites to start with (with domain and hostings)

10 lessons to start with affiliate marketing

use of keyword research tool

and mentors to help you out. ( I will be one of them!)
All the best:)

Do you have any thoughts regarding this article? Please leave a comment.