Ebates has been around for almost 20 years now. They say it is the tried-and-true, free membership saving programs that have already paid its members of a whopping $1-billion in cash back on their online purchases!
Wow! That was impressive!
These given figures alone speak volumes about the reliability, integrity, and popularity of this widely used cashback program! How does Ebates really Work?
How does Ebates do it? Is it Worth It?
This is my review of Ebates and let me tell you if joining this free membership cashback program is really worth it.
---
Overview and Ratings
Name of Product: Ebates
Product Owners: A Rakuten Company
Product Website: ebates.com
Product Description: Cash-back Program
maffiliatediary.com Rating: 7 out of 10
---
What is Ebates?
Ebates is a company that was launched in 1999 that gives cash back to shoppers online. Ebates has been successfully connecting these savvy shoppers to America`s most popular brands and give them a hassle-free way to save money while they shop, and at the same time, their retail partners were able to gain customers and drive record sales.
This is the reason why they became one of the largest rewards program in the US with an A+ rating from the Better Business Bureau (BBB).
How does it work?
You might be wondering, how can Ebates give cash back to their members? It is just like giving money for free!
Ebates employs a very simple business model, which involves retailers paying Ebates a commission for sending its members to shop at their stores. Ebates splits this commission (maybe 50/50) with its members in the form of cash back rewards.
So, this business model is just like affiliate marketing. This is when companies, the online stores, pay people a commission for referring sales.
Ebates is an affiliate to more than 2,000 stores. When someone clicks on Ebates link to a retail store, Ebates gets a commission.
Ebates then gives half of their commission (thru cashback). This is a win-win situation on all involved: the retailer (the company/online store), the affiliate (Ebates), and the customer (the shopper).
Let me walk you through- how this all works?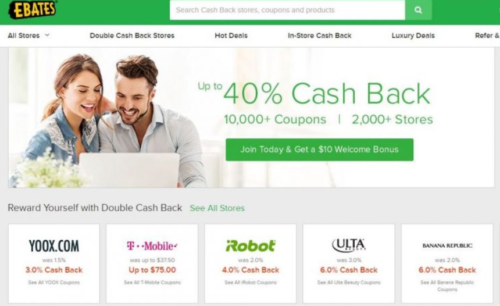 First of all, you need to join Ebates – it is free to join.
Once you`re a member, then you can start shopping through the different retailers (there are thousands to choose from).  Then you can take advantage of all the discounts and cash back once you start purchasing online through Ebates.
How long does it take Ebates to register a purchase?
Once you click through to your store and made a purchase, the cash back will show up in your Ebates account within 7 days.
If your cashback is in your account for 60 days, you will get paid via PayPal on the following dates: February 15, May 15, August 15, and November 15.
You can also maximize your earnings when you are using Ebates:
1) Coupons. Check Ebates for coupons before you check-out. Not only do you get cash back from Ebates, but they also have coupons for most of the stores too. Coupons can help you double down your savings.
2) In-store Cash Back. This is something new with Ebates. To activate this, go to the "in-store cash back" page of your dashboard, click on the store you`re going to shop at and link your credit card. Afterward, all of your purchases will show up in your Ebates account with your cash back.
3) Refer-a-friend Program. They give you $10 for every new member who signs up for Ebates through your link and makes a purchase of $25. Your friend gets also $5 cash back.
4) Hot Deals. Once in a while, Ebates will offer hot deals as much as a 40% discount on the products and get a good percentage of cash back. It`s really a hot deal.
Who is Ebates for?
Ebates is for someone who would like to get rewards for shopping online.
If you do not shop much online, Ebates may not be for you.
You also have to consider if you shop quite a bit online, that is where you get most of the benefits of Ebates.  But if you just shop once in a month with just simple and not expensive items, I am not quite sure if it will be worth it for you or not.
For example, if you just spend $20 buying something through Ebates, with an average cashback rate of 5%, you`re only looking at 1$ cash back.
Is Ebates worth your time?
Probably yes! If you are spending thousands of products shopping online, you may surely get a lot of cash back from Ebates!
Just so we`re clear here, you can`t make a living off Ebates and should not buy things that you don't need just to "say" you earned cash back!
What is this for me?
Well, if you click my link and join Ebates and through it, you make a purchase of $25, I will get a $10 commission from Ebates. This decision is all up to you! If you don't want to use that link, it is all good.
Here`s my link:  JOIN EBATES NOW! – click here

Final thoughts.
It is no doubt, Ebates is a legit cash back program. It has almost all the best retailers that you can think of. It is a cash back program that is free to join and easy to use. It is a program good for the people who love shopping online and at the same will give them money back.
Is it worth it? Probably so, because no matter what you buy through Ebates, you will still get cash back. It`s just like buying always at a discounted price.
But is it worth your time? The answer depends on what is your purpose. If you are plainly shopping, yes it is worth your time. If you are promoting Ebates to earn money? I don't think it is worth your time.
If you want to earn money online, I invite you to join my community of entrepreneurs. It is the same community that helped me build the online business that created for me a passive income.
It is free to join, no risk, and start the training right away to build your successful online business.
If you have any thoughts about this review, please do not hesitate to leave a comment.
All the best!