Is UserTesting Legit? Can you really earn money by using this survey site?
I have mentioned UserTesting in one of my posts: What are the best ways to make money online?
You have probably come across a lot of survey sites that need your feedback in order to get paid.
UserTesting is one of those kinds of site wherein you are being paid to test some websites. Usually, it takes about 15-20 minutes to finish a testing task and you will get paid for 10$.
Sounds fair, right? But is UserTesting legit at all?
How can you make money in UserTesting?
This is my review of this site based on other UserTesting reviews.
Just to make clear, I am not associated with UserTesting in any form. So, rest assured that I am not here to pitch or sell you anything of this site.
---

Overview and Ratings
Name of Product: UserTesting
Product Owner/Founder: Dan Garr
Product Website: https://www.usertesting.com/
Product Description: Get Paid to Test Websites, Apps, or Products
myaffiliatediary.com Rating: 9 out of 10
---
What is UserTesting?
UserTesting is a program that gets customers' feedback on almost all kinds of customers' experience when browsing websites, using apps and programs. The feedbacks are audio and video recordings from your target market. These are recordings from real people speaking their thoughts and experiences on your site, apps, or products.
If you are the UserTester, you will go through a screening process to determine your capability as a reviewer.
Who Uses UserTesting?
1) Companies or developers of websites, apps, or products that want to have their website properly tested by real people from their targeted audience.
2) People like you who are looking for ways on how to make money online.
How Does UserTesting Work?
UserTesting has a trial user test. Once you have passed this test, you are required to complete a profile, which contains the basics like your age, gender, and income level. It will also ask you to select which devices you have access to, this will help the program know which tests to allocate to you.
In most cases, there are still bits of a screening test to make sure you meet certain criteria. Some are very specific. If you are qualified, then you are ready to begin your task as a tester.
Once you have grabbed a test, the screen recording begins. While you take a tour and start screening the website, the app, or the product you are testing, you are being recorded. You complete the task by using a simple interface, speaking all your thoughts out loud as you go. Once you are done, there are usually brief questions for you to complete.
One good thing about UserTesting is really you can't get it wrong. If you struggle to find something on that website or app you are testing, that`s exactly your feedback which is going to be useful to the creator or developer of that site.
In terms of your feedback, you are star-rated on the tests you complete and will be given an overall average star-rating too. This plays an important part in your eligibility for future tests.
What Do You Need To Join?
You must be at least 18 years old.
You need to have a laptop or a computer, an internet connection, and a microphone.
You need to download their testing software.
You must have the ability to speak your thoughts in English.
How Long Does A Test Take to Complete?
A test usually consists of about 10-15 minute recording with 4 questionnaires. So, if you are a good and fast reviewer, a test may take about 15 to 20 minutes to complete.
UserTesting pays $10 per test. So fairly enough to say, it is possible to earn $10 every 20 minutes.
How Does UserTesting Pay?
The only way UserTesting pay is through PayPal. So, you need to have an account in PayPal. Also, make sure that you live in a country that accepts PayPal. The payment takes about 7 days to process.
Who Is UserTesting For?
UserTesting is for anyone who wants to earn a few extra dollars on the side.
It is also for someone who loves to give out reviews and able to provide very thorough and concise points.
It is also for anyone who can speak clear enough and has a good speaking voice.
The Good
User testing experience is interesting.
UserTesting is a company that worked with big names such as Facebook, Microsoft, and Yahoo.
The websites, apps, or products you are testing are from big and popular names.
UserTesting is a good way to earn extra money. It offers fair pay: $10+/test.
The Bad
According to some UserTesting reviews, there were instances of a user not getting paid. This may be due to some technical issues. But it is something to take note of.
There are times when there are no available tests at all. This may be due to the fact that the site has lots of testers that joined and there are only a few sites to be tested.
You may not be accepted as a tester. I have mentioned about the pre-screening. It may not be good especially for people who are good at reviewing but can't really voice out their ideas. There are people who are better writing out their reviews rather than voicing it out and being recorded. Sometimes, even if you pass the test, you are still going to get ratings that might affect your qualifications for testing.
My Final Thoughts
I can honestly say that UserTesting is a legitimate company that pays someone to review websites, apps, or products.
If done well, you can surely earn money from this site. $10 per test in 20 minutes is quite generous, giving you at least $30 per hour rate.
But, do I recommend it?
Other than the issue on the testing availability, UserTesting is a good way to make money online, on the side.
Unfortunately, UserTesting is not something that generates enough money to be more than a side gig.
Do you want to know how I make a living as an affiliate marketer?
I invite you to join my community and learn right away how to create your online business generating a passive income.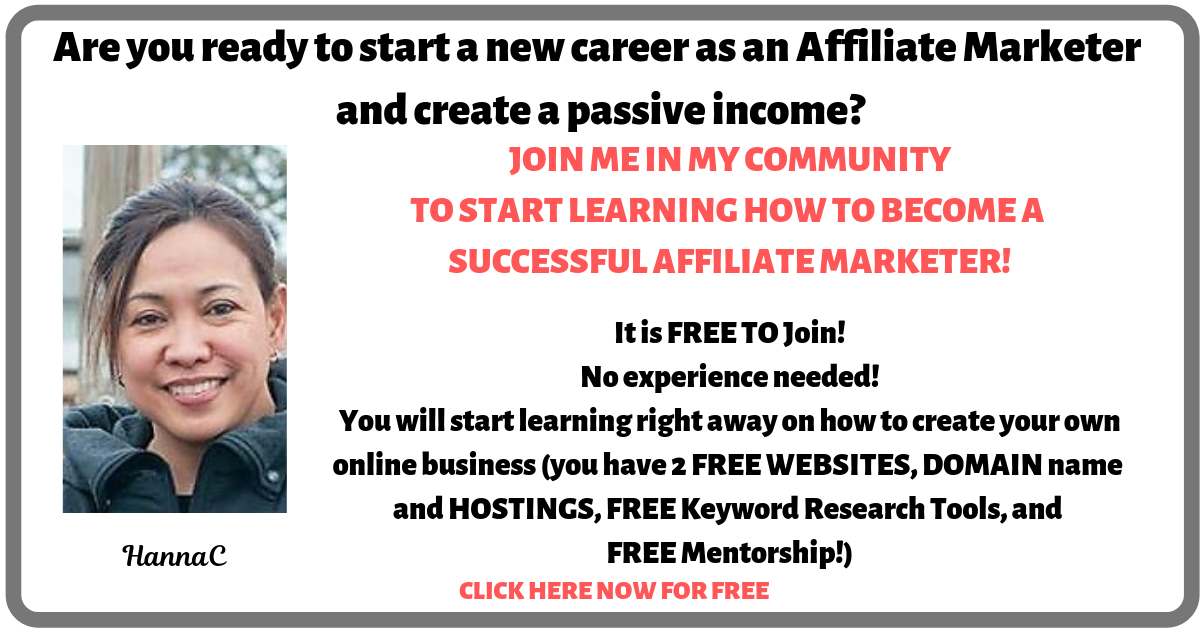 If you have any thoughts about this review, please do not hesitate to leave a comment.
All the best!