One of the Builderall`s sales pitch that caught my attention "Imagine a platform where you can access all the marketing tools in your online business!"

Is there such a thing? All in one package?
That would be awesome! Right? For an online business, you will definitely need lots of tools to make your business work such as plug-ins, funnels, websites, email marketing software, and so on and so forth? The list is endless. You usually use around five to ten different tools to make your online business work. On top of it, these tools are too costly, and use a lot of your time and effort.
So, how awesome it would be if there is really such a thing.
Fortunately, there is such a thing! That is Builderall!
Builderall is a powerful aid for online entrepreneurs and businesses who bring their ideas to life by having the most complete digital online business builder and marketing platform on the internet.
It is the most complete platform for your business in the market today. It has all the tools you will need to have the best results and a completely automated digital marketing system all in one place for the best price in the all the market.
Nowadays, the success in online marketing relies on using the right digital marketing tools. There are hundreds and thousands of tools to choose from. With these numbers, you are not quite sure if ever you are using the right tools or not.
Aside from the necessity of the right tools, entrepreneurs and business owners should be able to know how to manage their online presence, marketing, and sales process.

Builderall offers all these tools and trainings to make each and every online entrepreneur be successful in their business, may it be small or big. It has the most complete and easy-to-use digital marketing platform.
Builderall will help you bring your ideas to life, send your messages to thousands of people, sell your products, bring customers to your sites, and so much more.
Builderall has the right solutions for all small business owners who want to be great entrepreneurs, digital marketing professionals, coaches, designers, service providers, networking professionals, web agencies, and for other people who really just want to create, build, and be successful as an online entrepreneur.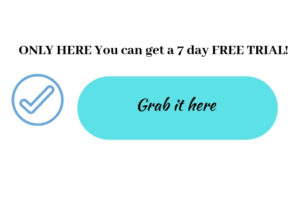 What are Builderall`s Digital Marketing Tools?
One of the most important step in building your online business is to promote it. You will be needing marketing tools for this.
Builderall has almost all of these marketing tools. Whether it is an email automation tool to keep in touch with your customers and targeted customers, a sales page to promote your products to social media fans, or a sales funnel creation so you can turn strangers into potential followers, and so many more.
Builderall also offers website building, creating landing pages, create apps, design and build sales funnels, generate automated email campaigns, build membership sites, run courses, have Facebook integration and so much more.
Hand in hand with these tools, there are almost about 400 training videos which will help you walk through a particular subject, or trainings for a beginner to a professional online entrepreneur.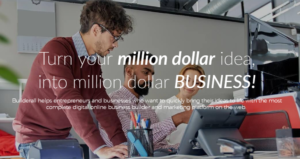 Here are the different Builderall tools which are all very useful:

Drag and Drop Website Builders – This is a user-friendly interface that even beginners can create beautiful websites which includes lots of themes and templates. Aside from websites, you can create landing pages, and other pages for your online marketing without having any special technical knowledge about it.
Sales Funnel Builder– This helps you create sales and marketing funnels from thousands of templates to choose from. Some types of funnels you can build are lead magnet funnel, sales letter funnel, and webinar funnels.
IOS/Android App Builder – This unique tool helps you create Apps for mobile phones.
Email Autoresponder tool (Mail Boss) – This is to generate automated email campaigns using the built-in email automation tool called Mailing Boss. With this tool, you can grow your email list as big as you want without having the price increase of your monthly.
Facebook Integration – This is a tool that can easily integrate your websites to your Facebook page to gain more leads and customers from your followers.
Script Generator – This tool will help you compose your emails and other promotional campaigns.
Design Studio Mockups – This is another great tool for you to design professional-looking cover images, posters, and other medias for your business. With this tool, you won't be needing anymore complicated photo editing software.
Animated Video Creator – This is a great tool for creating your own animated video to promote your online business.
Floating Video Creator – This is a feature that will help you create a video that floats in your website – very cool tool!
Presentation Builder (Webinar) – This tool will help you create digital presentations on your websites.
E-Learning – A tool that will help you build your own digital course to market or whatever purpose necessary for your business.
On-Page SEO Report Tool – Builderall has a way of making sure that your website can be indexed and rank on Google. This tool helps you optimize your Search Engine Optimization settings.
Browser Notifications – This is a very helpful tool as your audience will receive notifications about your website even if they`re not on your website.
Click/Heat Map Tool – This is a tool which is often a paid service from other companies You can track how your audience behave on your website to optimize your conversion rate.
Build Your Own Affiliate Program (Marketplace) – This is a great opportunity for affiliate marketers because this is their chance to build your own affiliate program, and then you can sell it through paying affiliates to sell for you.
This is why Builderall amazes me! Using all these tools and so much more from just one platform is just unimaginable. And in spite of all these several features, there are about 200plus videos that will help guide you through all these tools to make your business be really successful.
People who had been doing affiliate marketing would know that using all these tools altogether in one roof will definitely make your online marketing business save so much time, effort and money too (as in Builderall, you will only pay a monthly fee to use all these features!)
Newbies – Anyone who is just planning to start with no experience about the digital marketing business.
Affiliate Marketers – These are the ones promoting other people`s products to earn commission.
Product Creators – These are the sellers who are promoting their own products using digital platforms.
Bloggers – These are writers and website creators who are promoting their niches through their articles and posts.
Small Business Owners – These are people who have their own business and wants to promote it online through building websites and other digital platforms.
Digital Marketing Agencies – These are people who help other online marketers build their websites.
Anyone who works from home and who wants to create income through online marketing.
But what if you have already your own website?
This is one thing about Builderall – it is a "stand-alone-platform".
Builderall may serve as an extension to your current business. You can connect subdomains to any new sales funnels needed for your site. But you have to consider that once you use their funnels, you cannot export them out of the platform thus you have to pay for the monthly fees in order to continually use your funnel.
So, if you are an affiliate marketer who doesn`t have any website yet, this is really a very good platform for you.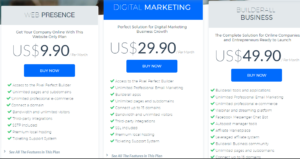 How Much Does Builderall Cost?
There are three(3) different pricing options for Builderall:
Web Presence: $9.90USD/month (no Apps and Mailing Boss, and only one domain with no SSL)
Digital Marketing: $29.90USD/month (all the tools such as sales funnels, website builders, 15 domains, ssl, Mailing Boss, but no webinar tool, no FB chatbot app, no affiliate program, and no Marketplace)
Builderall Business: $49.90USD/month (all the entire platform with all the good and best things you need to be a successful affiliate marketer).
Realistically, the prices are very reasonable considering all the tools and courses. Everything is in one place!
So, Builderall is offering 13 main features in their platform and it seems they are only charging users for $10 per month? $30 or $50 per month? It is definitely a very good deal!
You see, this is what Builderall is doing. They offer this very good deal but in order for you to continually use their products, you have to stay in their platform – it is like a "Lock-in Platform".
This will be a very hard decision for an intermediate or professional affiliate marketer because probably they already have their own website. Unless, of course, if they want to create another platform using Builderall, and at the same time create another passive income.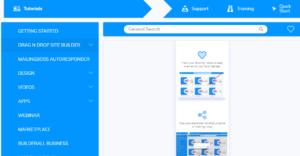 What are the Trainings in Builderall?
Builderall has about 200plus videos of tutorials and trainings. It is divided into Beginners, Intermediate, and Professional.
The trainings will walk you through how to navigate and use each of the tools they have in their platform.
The videos are comprehensive and very easy to understand. If ever you are stuck in anything during your course, you can just navigate to their help tool.
Aside from these courses, they also offer some training specifically for affiliate marketers to help promote Builderall. It is called the 90 DAY CHALLENGE.
TheBuilderall 90 Day Challenge training course is a fast-tract learning module to get you to the level of making about $1000 to $2000 a month in as fast as a 3-month time frame.
But of course, aside from taking this course, you need to take action, work smart, use the right tools and put time and effort in order for you to be successful in this, and meet your goals.
This 90 Day Challenge course is very special as it is directly from the marketing director of Builderall. You will get to use the same approaches as the top of the best affiliate marketers do.
This is really a great opportunity, as the income is great!
It just shows you that this platform, Builderall really help you succeed.
In order to take advantage of the Builderall Affiliate Program, you have to sign up with the Builderall Business plan. This plan will give you 100% commissions on your initial sales, plus a 30% monthly second-tier (2 tier) recurring commissions.
This means that if you have a lead and signs-up to a plan, you will get 100% commission for that first sale. If he stays on, you will get 30% commission of their recurring fee, plus if they eventually end up having a lead under them, you also make a 30% commissions on those sales.
If ever, you hit a 100 sales, they will pay you $500 a month for your car allowance.
If you hit 200 sales, Builderall will pay you $1000 every month for a new car lease.
As I have mentioned time and again, what a great opportunity!
People are getting into action because they are totally making money. They get paid fast and earn cash as they bring in other people.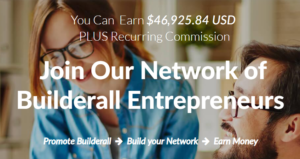 Honestly, you can have a lifetime income using the Builderall Affiliate marketing program. There`s no experience needed, you can start earning as you learn the whole process.
I consider Builderall as the highest paying affiliate program out there. Aside from all the tools they offer, they truly help each and everyone in the program succeed in their business.
For newbies, this would be a great platform to start learning and build a lifetime income.
For those who are already affiliate marketers, you can add this easily to your business and promote Builderall. With all your knowledge, this platform is so easy for you to create a passive and lifetime income.
Just think about all the money you spend on all the tools you were using to build your online business. In Builderall, joining their Business Plan is all worth it.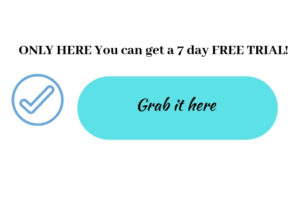 My Final Thoughts?
I think Builderall is truly a platform that has ALL the necessary tools you need to build and be successful in your digital marketing business.
Builderall is an excellent choice for both new and experienced affiliate marketers, internet marketers, business owners, digital marketing agencies and anyone who wants to create income through digital marketing.
If you want to take advantage on this all-in-one package platform, don`t wait.
TAKE ACTION today and start making money!!
All the best,
HannaC
What are your thoughts about BUILDERALL? Please leave a comment..