I am writing this article to let you know that making money online even with no experience is possible.
I am the living proof! Read my story here.
And I am going to tell you how to make money online with no experience.
I know you are here to find a way to make an income, but it so happen, you do not have any experience with an online business.
I am here to lead and guide you, from what I have learned in the online industry: How I ever got started to this in the first place, with no knowledge at all about online business!
But just a heads up, this best strategy and the most legit way on how to make money online that I am going to share to you is unfortunately not a "get-rich-fast" scheme.
I have found out about online business four years ago and during the early stages, I have encountered several of those kinds of schemes. These experiences made me more cautious and also made me study and learn more about how I can make money online.
Luckily, even as a beginner with no experience, I was able to establish two profitable websites, and another one in the making on this day.
The strategy that has worked for me has also worked for hundreds of other new online entrepreneurs.
I am very grateful for learning this effective way because I was able to change my life the way I want, no 9-5 kind of jobs, a job that I can do on my own phase and anywhere, and most of all, I am very glad to have this chance to share and teach you what I have learned.
First of all, before we get started, in this business (or any business for that matter), it takes time, hard work, and dedication in order to be successful.
You should be "all in" in this venture. You are building a business wherein you want to create an income for life (yes, that`s going to happen if you truly are successful – your own passive income for life!)
Are you "all in"? Then, read on…
What Do You Need To Start An Online Business?
A laptop or a desktop
Any computer that you have that works because you need to set up your online business on your laptop/computer. I know smartphones have definitely moved to a higher capability on the internet but still at this point, it is still better to use your laptop or computer.
An idea
We are creating a business here. So, we need to have an idea about your business. I usually encourage to have an idea based on what you are passionate about. It is a lot easier to create our online business if you know anything about it. Ideas such as food, fashion, health, or just about anything.
A website
Yes, we will need a website. I know probably what you are thinking right now, how am I going to build a website. Isn`t I told you earlier, I was a beginner too. I created my own website without any knowledge about it. I just learned from training which is easy to understand, no codings needed.  I will tell you more about it in a bit. Just read on.
Perseverance
We are creating an online business, with no experience, so we may encounter ups and downs along the way. But this I tell you, honestly, this works!!!
You just need patience and perseverance. Just continue doing it and make it happen for you. It happened to me, and for sure, will happen to you too!
The thing here, it took me about 7 months to get my first sale… And my life had never been happier. After the hard work, it truly pays off.
A good and reliable program that will teach you everything about online business! (no b.s.)
After encountering so many scams and those "get-rich-fast" schemes, I am lucky enough to land in this program that I am recommending you even with no experience.
This is the best program I recommend for beginners, who don't have any knowledge at all about online business, setting up websites, and other strategies that will help you succeed in this business.
I was almost on the verge of quitting all about this money making online business, but I was so glad that I have found Wealthy Affiliate.
I was able to build successful websites because of this platform.
Now, I invite you to try their program. The good thing – it is FREE TO JOIN. No Risk. No Credit Card required.
What do you get with the free sign up?
You will get 10-lessons for free, you can start building your online business.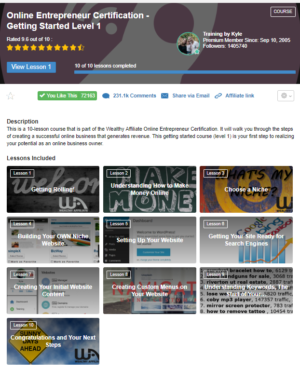 You will get two free websites to start your online business. With free domains and hosting.
You will get to use the best keyword research tool.
You will have the whole community ready to mentor you (including me).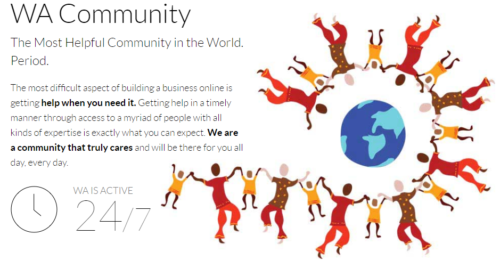 Those are all for just signing up for free!
And if along the way, you realize that you are into this program and you are happy about it, you can upgrade to Premium (which is $19 for the first month and $49 for the next months – with discounts if you get it for 6 months or for a year).
With regards to the cost, that`s just about it… No upsells!
And what do you get for premium? Check this link to find out!
My final thoughts
So, those are what you need to get started on how to make money online even with no experience. You need a computer or laptop, an idea, a website, a program, and a lot of perseverance and hard work.
Now, you ask me, is it hard? Yes, it was, at first because I wanted to know everything right away. Then, I realized it doesn't have to be overwhelming. It is not a race at all.
The potential of creating an income in online business is huge. I believe, even if you start today or tomorrow, you will still have a chance to build an online business that will give you passive income.
But now, you have this opportunity that I am giving you, a piece of information that it is possible to make money online. Make your move, make it happen!
I invite you to just take a look and join my community of new entrepreneurs just like you, and I will see you in the inside.
If you have any questions or thoughts about this article, feel free to leave a comment below.
All the best!